Today, we are celebrating Jade, one of our Speech & Language Therapists, because we can, but also because she is one of 30 Speech & Language Therapists in the country to be trained in Sensory Integration. Jade completed her postgraduate certificate in Sensory Integration in March 2021, making her a qualified Sensory Integration Practitioner.
Jade first decided she wanted to become a Speech & Language Therapist when she worked alongside one as a Teaching Assistant at a SEN school. In 2015, she became a practicing Speech & Language Therapist after she graduated from the University of Manchester, with a BSc (Hons) Speech & Language Therapy degree. Her first role as a Speech & Language Therapist was at a private company in Preston. Whilst she was there, she developed her interest in sensory integration; thus, began studying it. Joining CCL in 2019, she continued studying sensory integration and, of course, is now a qualified Sensory Integration Practitioner.
So, what is Sensory Integration you ask? We had many questions for Jade and didn't realise how interesting and extensive it was.
Sensory Integration is the incorporation of the eight senses within our bodies, which are:
Visual (sight)
Auditory System (hearing)
Olfactory System (smell)
Gustatory System (taste)
Tactile System (touch)
Vestibular System (balance and movement)
Proprioception (sense of muscle and/or joint movements – awareness of where the body is in space)
Interoception (what internal organs are feeling, e.g. thirst, hunger)
On asking Jade to summarise what Sensory Integration is, she said "Sensory Integration is at the basis of all we do as a species. To be able to achieve the more specific and demanding skills of daily life, such as communication, academic learning and maintaining appropriate behaviour, we need to have a robust sensory foundation. Helping our guys to repair and maintain their sensory foundations so they are able to achieve their full potential makes my job different and fulfilling every day."
Essentially, sensory integration is when our senses combine to create our sensory system. To fully access daily living, our senses system needs to be just at the right level, which is achieved through successful integration of our central nervous system. Everybody has different sensory integration, but it only needs addressing by a practitioner, such as Jade, when it impacts their day-to-day life. For example, some people's proprioceptive system causes them to bump into objects or people, due to them being less aware of their body in relation to their surroundings.
Figure 1 Central Nervous System (William & Shellenberger, 1996)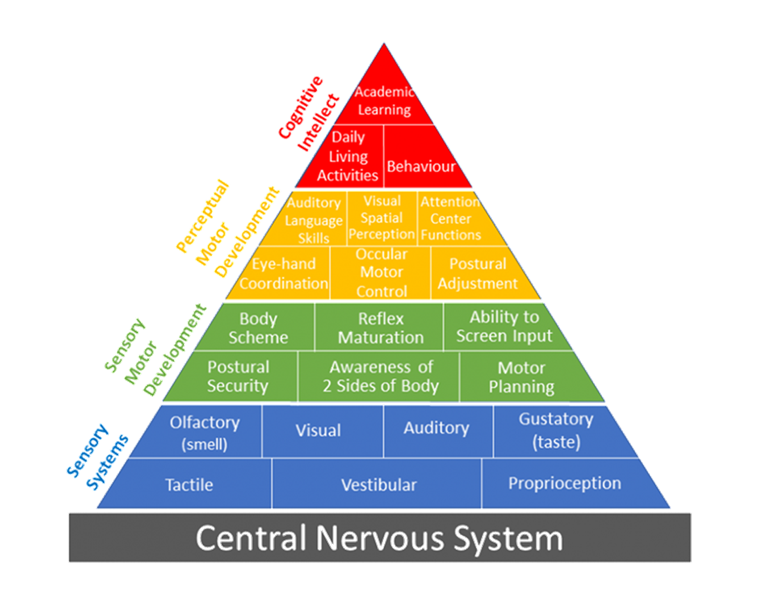 Having a Learning Disability diagnosis lends itself to an expectation of associated Sensory Integration difficulties (Lord et al., 2020). Consequently, with our learners, sensory integration can sometimes not be completely successful and will show itself as unwanted behaviours. Referring to Figure 1 Central Nervous System, to achieve academic learning as a minimum our sensory systems need to be aligned. Therefore, Jade aims to re-align the central nervous system of those who need it. This can be done through assessments, but Jade spends regular contact time with our learners, so is able to identify their needs predominately through observation. Subsequently, she then works out why someone's central nervous system is functioning atypically and provides strategies to re-align it.
A straightforward example is: If someone is unable to sit and attend due to constantly seeking movement. From this behaviour, Jade can identify that the person is under-responsive to vestibular input. In this example, Jade would offer frequent movement breaks at intervals throughout their waking day, which would help them to reach their vestibular threshold, making sitting still and attending easier to achieve.
Now Jade is fully qualified, she is looking forward to having a sensory space at CCL's hydro centre, where she will be able to carry out full assessments and programmes. The picture shows Jade carrying out a calming deep pressure input treatment, which aims to relax the central nervous system, achieving a just right level of sensory regulation. In addition, Jade has already conducted Sensory Integration training with the team at Grafton and will continue to do so, meaning the team are able to identify signs of sensory issues, and therefore relay this back to Jade for her to investigate further.
Jade has recommended a book for beginners who want to learn more about sensory integration: https://www.amazon.co.uk/Out-Sync-Child-Grows-Processing/dp/0399176314
A huge thank you to Jade and a massive congratulations for becoming a qualified Sensory Integration Practitioner – we cannot wait to see the benefit your expertise will bring to our learners. Jade truly is an asset to CCL!